1. Allgemein
Du kannst Holvis Spesenabrechnung verwenden um jemandem zurückzuzahlen, wenn sie Einkäufe für dein Unternehmen oder eine Aktivität getätigt haben. Es gibt zwei Arten um Spesen zu erstatten bei Holvi. Du kannst die Spesen entweder direkt im Konto einreichen, oder du kannst eine externe Spesenabrechnung an die Person schicken, die das Geld fordert. Beide Optionen findest du in deinem Holvikonto unter Spesen App unten links im Konto. 
2. Spesen direkt einreichen
Klicke auf Spesen App im linken Menü im Konto
Wähle Spesen einreichen wenn du die Spesen direkt im Konto einreichen möchtest.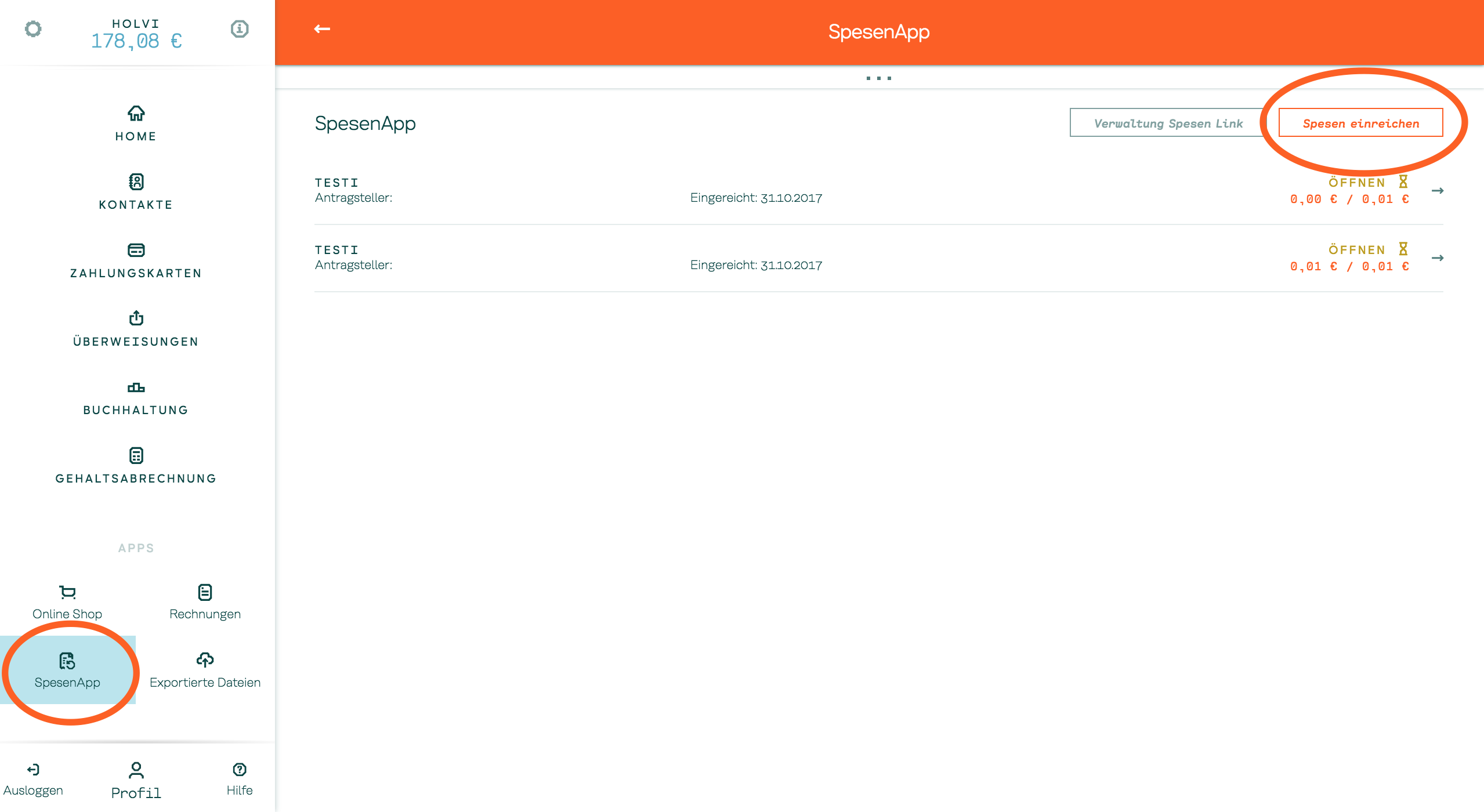 Gib den Betreff der Abrechnung an
Gib die Empfängerdetails bei Zu Zahlen an an. 
Gib die Details der Spesen an und füge einen Beleg als Datei an. 
Klicke auf Speichern oder Jetzt Bezahlen. Zahle sofort oder speichere die Abrechnung für spätere Bewilligung.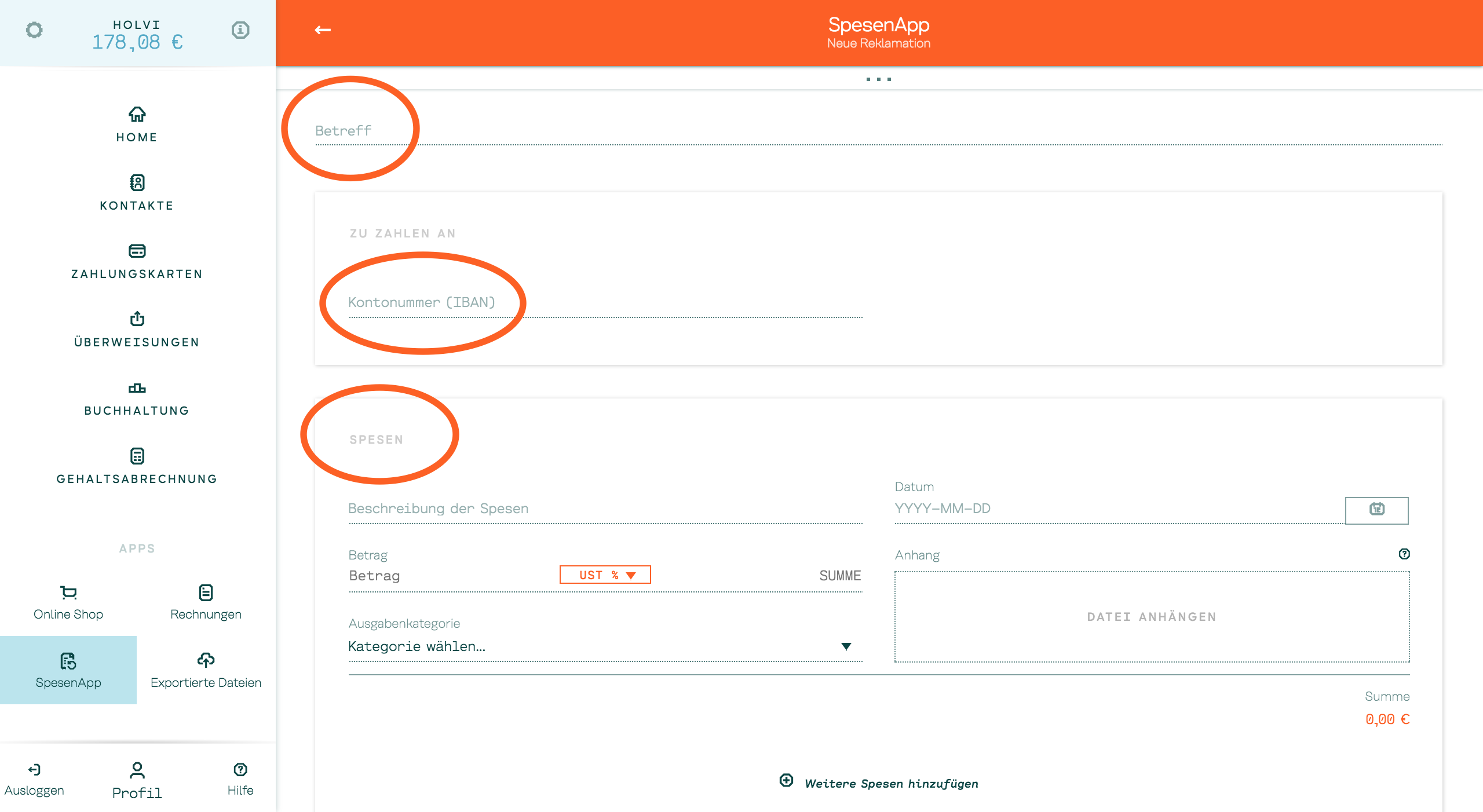 3. Sending an internal expense claim
For sending a claim to someone else choose:
Expense claims.
Manage Claimants. Here you see a list of the current expense claimants that can send you expense claims. They have received an email link that gives access to an expense claim form that they can fill and send it your way. You only need the recipient's first name, last name and email address. The receiver can use the same link whenever they need to file expenses. If you want to resend a link you need to deactivate the link first an then re-invite the claimant.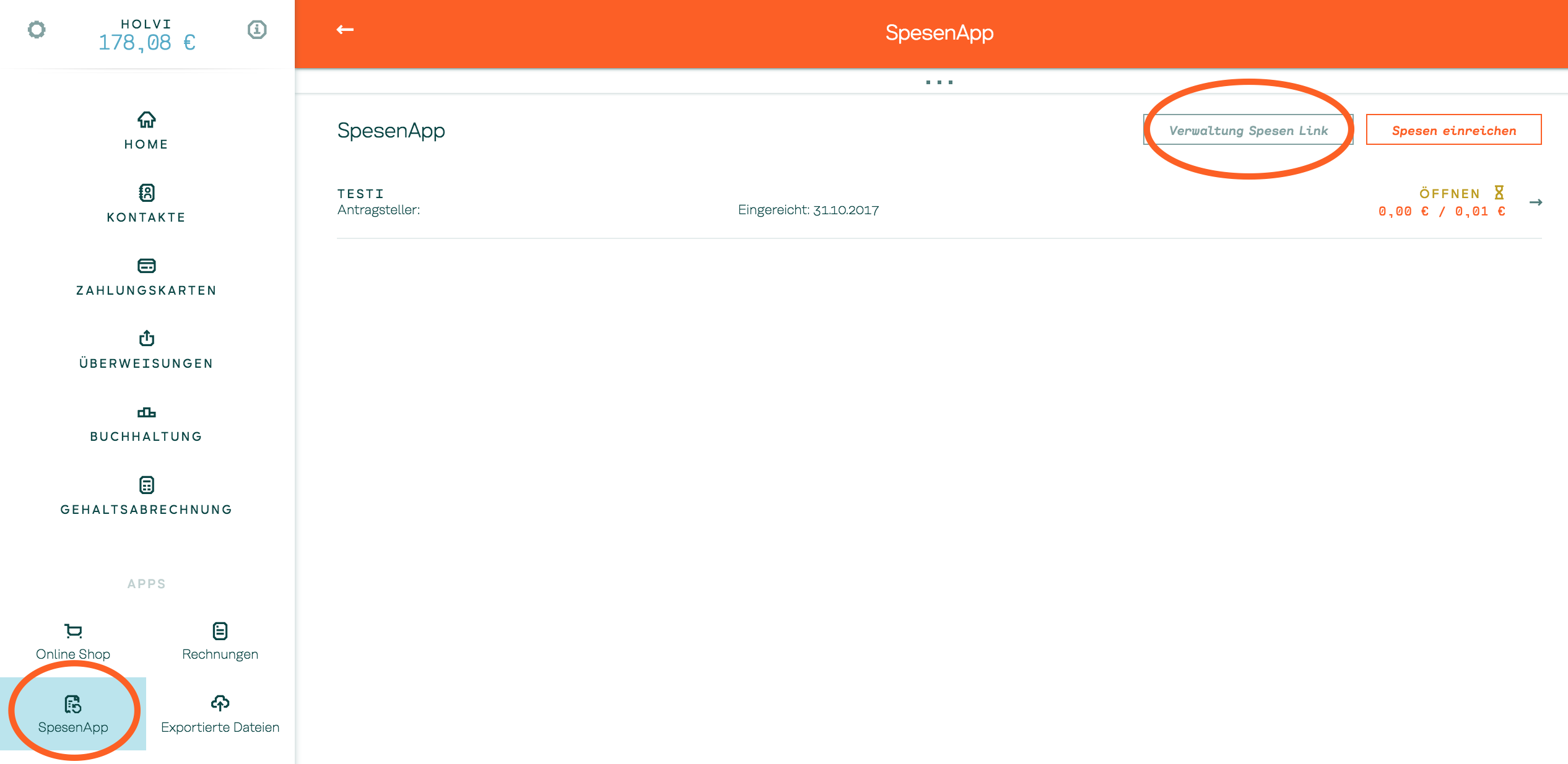 To send the form to a new user click here Invite a claimant and fill in the details of the claimant. By clicking invite a claimant after filling in all the details you'll send a link to an expense claim per e-mail to the claimant.
The recipient/claimant fills in the expense claim form by adding the topic, amount, date and description of the expenses, as well as their IBAN. Then they attach the receipts or paid bills/invoices. The same form can have several expenses attached. 
The claimed expenses then arrive to your Holvi account. You can accept or reject the expenses one by one and make the payment out immediately (confirm by SMS code or Holvi App push notification) and update your bookkeeping by marking which expense category the expenses belong to.
You can add a short note when you process the form, telling for example why a receipt was rejected. The images and files attached to the expense claim form are saved in your Holvi account for bookkeeping.