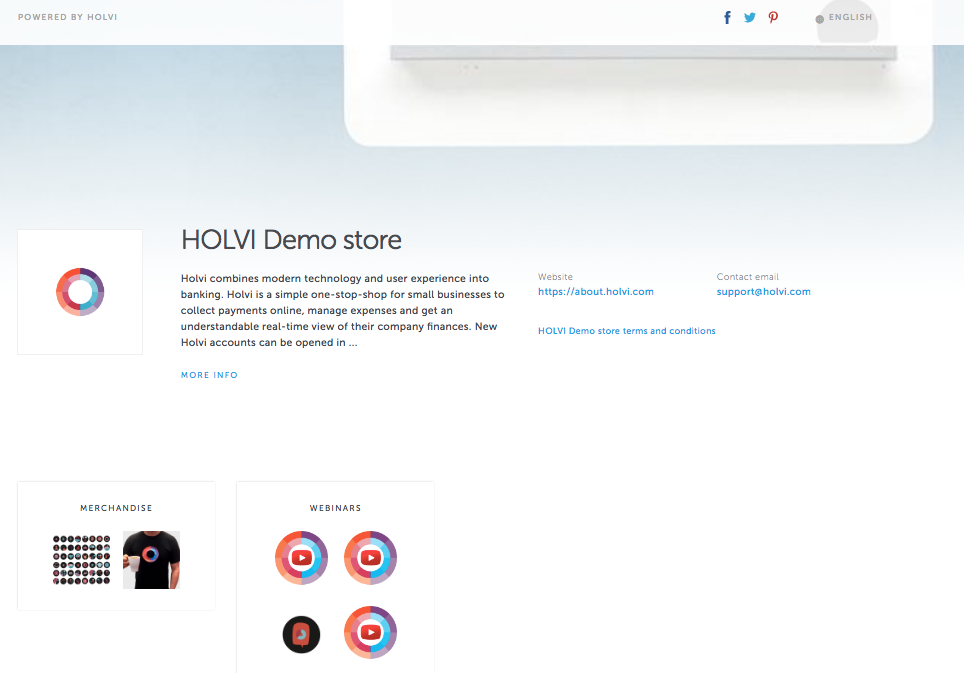 In this article we will go through the customisation options you have in your Holvi online store.
Available as a vide tutorial: https://youtu.be/o9d-WfOkhnk?t=62
Table of contents
General customisation tools
You may customise your store by adding a background image and a logo to the store. In addition to this you may include a store description, product description and images and your own terms and conditions.
Other customising options are not available at the moment. You may access all your online store settings by clicking the settings icon in your online store menu.

Editing the texts
You may edit your store description, product infos and receipts messages with markdown text editing language. Here are the rules, you can also see them in your account under Format help under each description field.
# H1 Header

H1 Header

## H2 Header

H2 Header

### H3 header

H3 header

#### H4 header
H4 header
##### H5 header
H5 header
###### H6 header
H6 header
*Italic*
Italic
**Bold**
Bold
[Link label](http://example.com)
Link label
1. Lorem
2. Ipsum
3. Dolor
 
* Lorem
* Ipsum
* Dolor
 

Please note: the text styles are only visible in your actual store page, there is currently no preview tool in Holvi.
Image sizes
All images are scaled to fit the window. This is why the bigger the image, the better quality it will be. But the file size should'n exceed the maximum 1MB
Store logo
Pixels: rectangular image - the bigger, the better
Size: 0,5-0,9MB (max 1MB)
Store background
Pixels: landscape image - the bigger, the better
Size: 0,5-0,9MB (max 1MB)
Store item
Pixels: the bigger, the better
Size: 0,5-0,9MB (max 1MB)